During the past four decades in which I have been involved in Condo Land (Toronto's downtown core condo market) I have been absolutely amazed to see how little thought has been put into protecting consumers.
After all, consumers are the only one's who actually put up any money in this game!
The City, according to Toronto Life Magazines very comprehensive article "Faulty Towers", receives about $10 Million in Permit Fees, and related charges "per high rise tower".
Now you can see why there is such a place as Condoland.
How Toronto could end up having more high rise condominium project under development, over every other North America city is a question well worth asking.
I've got nothing against sustainable urban growth, but I also respect the laws of physics ("that which goes up must come down").
I wouldn't even have a problem with seeing prices rise so unjustifiably (approximately 250% in under a decade) if these concrete and glass towers were introducing the latest technology or even was keeping up with modern materials to enable them to advance the "quiet enjoyment" of those footing the bill.
Unfortunately today, I've had clients come to me within weeks of moving into a brand new condo complaining about cigarette smoke permeating throughout their condo at all hours of the day and night while being forced to live with hearing televisions and stereos and partying on all sides at all hours!
For years I've had entrepreneurs contact me expressing their frustrations from having developed excellent "sound attenuation" (for example) materials and solutions only to face developers that are simply "not interested in".
For all of the outrageous profits these developers grab from each project, while all the while building them based completely on the "lowest bidder" and adhering to a "minimum construction quality allowed under the Building Code" (while selling units as the "ultimate in residential comfort") it is simply offensive that consumers have delivered to them, the substandard product that is pawned off in Condoland.
Don't get me wrong  . . .  I'm all up for everybody making outrageous profits on everything that they do, but in Condoland, the playing field is simply "rigged" in that everyone makes out like a bandit, except the consumer.
The consumer has been duped into believing that they are gaining entry into some kind of elite "investor's group" that is granted only through attending through a Realtor that has been identified as a "VIP Broker".
This all sounds great, until one realizes that every broker on the Toronto Real Estate Board is considered a "VIP Broker" by the developer.
Realtors constitute a key investor pool, themselves for developers and by being identified as a "VIP Broker" the realtor community gains an invaluable intangible . . .  "credibility", something difficult to develop in any career.
Many Realtors don't really understand that they are being used as "pawns" in the game.  They "get this great chance to gain instant (although undeserved) credibility as a Realtor" and can promote this new-found credibility to their family, friends and acquaintances, promoting their ability "get priority access to buy/invest in units before the project goes to the market AND buy units at 'discounted prices'.
The obvious question is, "why would a developer offer his inventory of suites for sale at a discount before opening sales up to the general market"?
Every building has "dog suites" (a phrase I coined years back that continues to echo throughout Condoland) and I guess it is reasonable to ask, if you think it is more reasonable to assume that the inventory of suits offered at this "VIP Pre-Launch Sales Event" might consist of those "Dog Suites"?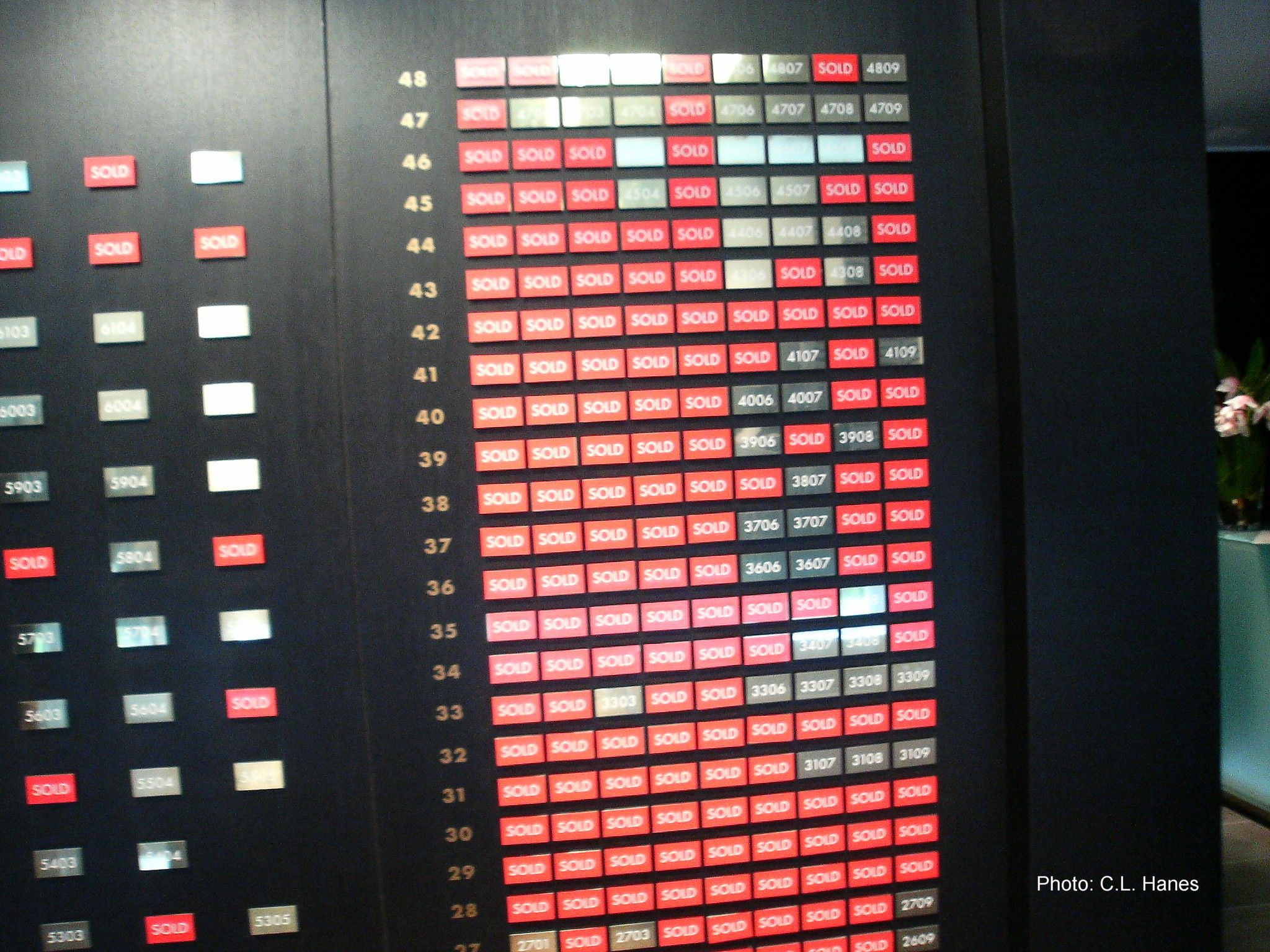 For years I've published today's photograph of the "VIP Pre-Launch Sales Event Availability Board" that I shot, as one of the first to attend.
The red dots are allegedly "SOLD" units.
Now, this was the first opening for anyone to get in to snap up suites and you can see that there is only a very few units without red "sold" dots over them.
So, for years now, these uninformed buyers/investors have lined up, bringing along with them their family, friends, and acquaintances who understand (or think) that they are gaining unique access to selecting "a premier suite at a discount"!
But when they arrive at the so-called "VIP PreLaunch Sales Event", they discover that the developer is making available only a handful of suites ("Dog suites") and if you want one, you simply have to buy whatever is being made available to you.
Over my entire career (almost four decades) I have seen absolutely no requirement for developers to change their ways, so they haven't.
Today, buyers receive a consistently flawed finished product and realize that they have no real protections.
Tarion protects the interests of the builder with respect to deficiencies, despite the consumer being required to pay the developers bill to Tarion for the developer (found is "adjustments at closing").
Can someone explain to me the logic of pricing having more than doubled (250%) while rental incomes haven't kept up and building quality has not changed and then buying condo units that the developer makes available to them?
And it is only the consumer that faces that 250% price increase as building materials and cost have not seen such radical increases.
I spoke with a fellow the other day, that has been directly involved in the updating of the Condo Act, or portions thereof.
He told me that he was quite impressed with the process but just listening to him re-inforced my perspective that other than "window dressing", consumers are going to be facing the "same old same old", once the dust settles.
Oh, I guess they've flushed out a couple of the obvious shortfalls, like lease backs and back-end payments to developers on common areas and/or guest suites, but what I heard was simply "more of the same old same old".
That's what happens when bureaucrats set out to fix things.
They surround themselves with bureaucrats and seldom waste time in seeking out those with "shirt sleeves" awareness of all of the diversified flash points that prevail here in Condoland.
I'm intending on contacting the decision makers in the Ministry that is overseeing the roll out of this massive undertaking that is supposed to "fix Condoland".
"Anything at all", although better than nothing, is simply not good enough for Ontario citizens who deserve a whole lot better.
My forty years of "in the street experience" in Condoland, is a most unique "tool" (factual awareness) that should be built into the engine of change, as academics simply cannot be expected to be aware of the unique nuances that constitute most of the problems in Condo Land.
I'm happy to apply for the job as it's what I've been doing for decades.
I'm Charles